Glass 120 Ocean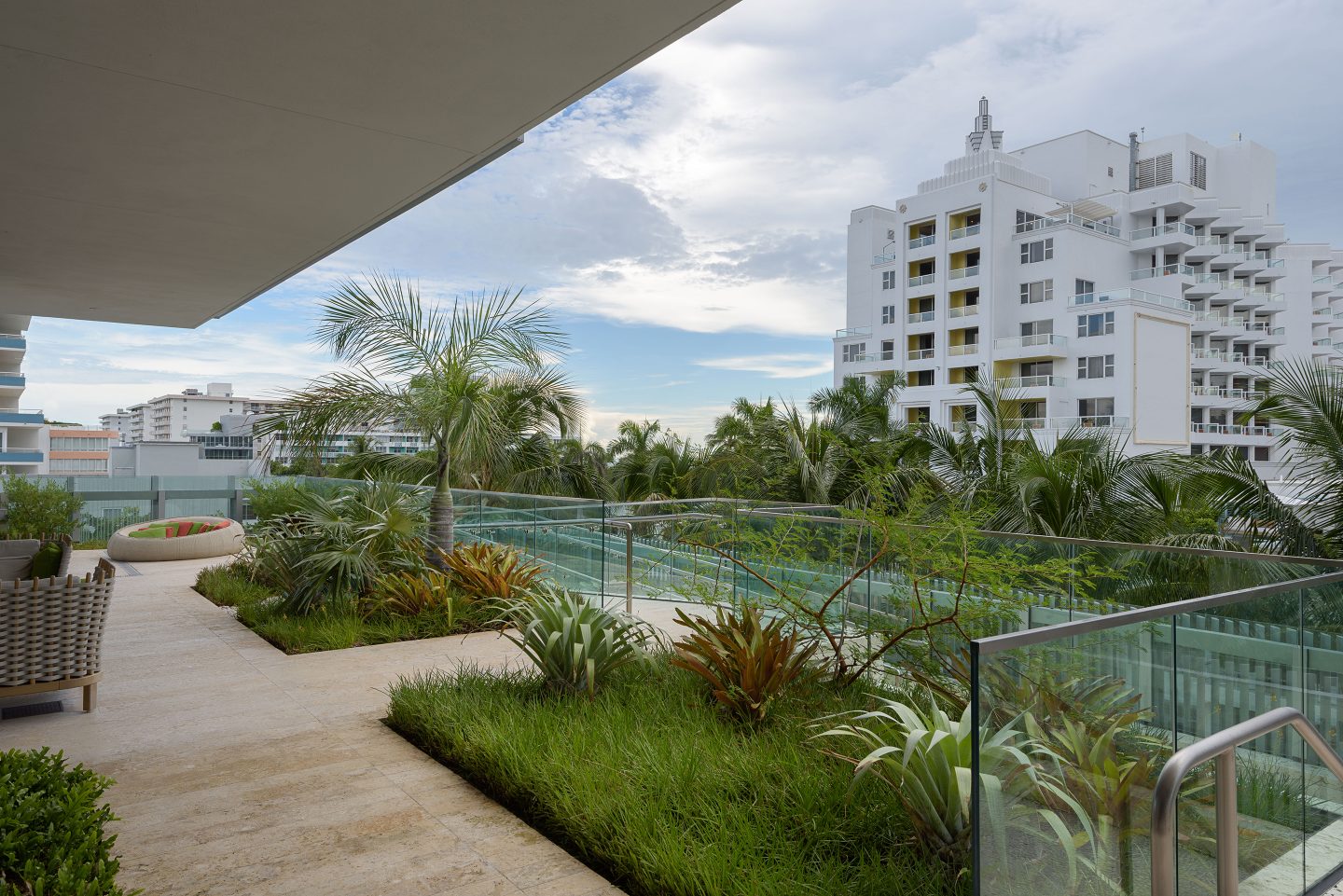 The gardens at 120 Ocean complement the elegant, unobtrusive, and timeless simplicity of the Rene Gonzalez-designed architecture. The landscape design seeks to meld the modern building seamlessly into the existing urban environment on Miami Beach, paying respect to the adjacent historic buildings and their intimate scale. Inspired by the qualities of the site and its […] … Read More
The gardens at 120 Ocean complement the elegant, unobtrusive, and timeless simplicity of the Rene Gonzalez-designed architecture. The landscape design seeks to meld the modern building seamlessly into the existing urban environment on Miami Beach, paying respect to the adjacent historic buildings and their intimate scale. Inspired by the qualities of the site and its surroundings, the design has opened views to historic facades, further unifying the streetscape and garden plazas under the playful shade of a grove of graceful Coconut palms.
Residents of 120 Ocean have multiple garden experiences, beginning at the plaza level where one can view into a serene garden, discreetly separated from the public realm. Water calms the space, creating pleasant sounds, drawing light, and creating a habitat for native aquatic plants.
The pool garden provides a sanctuary from the bustle of South Beach, yet visually connects with the charming scale of the Ocean Drive Historic District. Opportunities for relaxation, contemplation, and recreation scatter themselves throughout the residential environment. Circulation through the various garden rooms and levels unveils surprises and entices resident and guest participation. Sheltered, shaded areas for entertaining family and friends have been strategically placed, yet sun-lovers will never be denied. Perched at a treehouse level, the garden is embraced by existing and newly planted mature palms and flowering canopy trees. Plants have a prominent and integral role. Water enlivens the space, bringing constant change into the garden.
Year of Completion

2015

Location

Miami Beach, FL

Architect

Glass 120 Ocean

Photography

Stephen Dunn