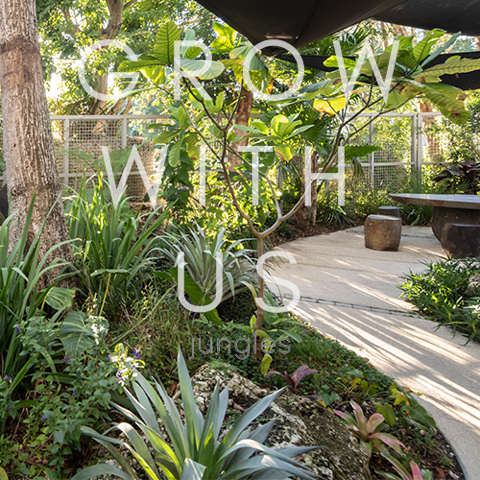 We're Hiring!
We are always looking for talented people to join our team. We invite you to view the open role(s) below. However, if interested in a position that is not presently listed, please email us your resume, cover letter and portfolio (15 MB max.) to employment@raymondjungles.com. Should you be a good fit, we'll follow up with you via email. No phone calls, please.
Senior Landscape Architect/Designer
Since 1985, Raymond Jungles, Inc. (RJI), has developed a dynamic practice inspired by the ethic of stewardship of the land under the leadership of Raymond Jungles. The firm's work is innovative yet timeless, proposing design solutions that respond to surrounding natural systems while restoring nature's balance and harmony on a micro-scale. RJI's completed gardens personify timelessness and beauty, with verdant spaces that entice participation and soothe the psyche.
The firm's design priorities are generated by the scale and functionality of a space. Simple, clean, and well-detailed hardscape elements are the quintessential bones of a garden. Planting volumes vary and bold colors and textures are used with intent. The firm is guided by Raymond's personal and design principles: integrity, relevance, and nature's honor. RJI's informed designs tread lightly on the land, provide habitat, and incorporate elements of surprise.
Who we are looking for:
Undergraduate or Master's Degree in Landscape Architecture from an accredited university program. Please note: We are also open to applications from qualified architects with an interest, specialization, experience, or accreditation(s) in landscape architecture.*
Professional licensure is preferred.
Demonstrated experience leading teams of designers on complex projects from concept to construction.
Minimum 6 years of landscape architecture profession experience, preferably local to the South Florida Region with a familiarity of native plant life.
Experience collaborating and directly interfacing with public and private client or stakeholder groups of varying types.
High level of proficiency in MS Office Suite, AutoCAD, LandFX, and Adobe Creative Suite. Some proficiency in Rhino, Sketch-Up, Lumion or other 3-D modeling software is preferred.
Experience in proposal writing.
Excellent written, verbal, and graphic communication skills.
Self-motivated with an ability to self-edit work, meet deadlines, command a high level of accuracy, delegate, and work within a team structure.
Able to establish and maintain effective working relationships with staff, clients, contractors, and the general public.
Well-versed in Site Grading, Technical Detailing, Permitting, Construction Documentation, and Construction Administration.
Demonstrated experience in Construction Administration and developing complex landscape design solutions are a plus.
Additional skill sets we'd love (but are not necessary):
LEED AP or SITES AP, General Contractor's license
Fluent in Spanish
Public speaking + presentation skills
Experience in social science fieldwork
Experience with coding
What We Offer:
Competitive salary
Medical/Dental/Vision Insurance
401k employer match
SOUND LIKE YOU?
Please send a digital copy (PDF or JPG formats) of your resume, cover letter, and portfolio by email to employment@raymondjungles.com. Once received, we will review and contact you should your qualifications be a match for this position. No phone calls, please.
Equal Employment Opportunity ("EEO") Employer. It has been and will continue to be a fundamental policy of Raymond Jungles, Inc. not to discriminate on the basis of race, color, creed, religion, gender, gender identity, pregnancy, marital status, partnership status, domestic violence victim status, sexual orientation, age, national origin, alienage or citizenship status, veteran or military status, disability, medical condition, genetic information, caregiver status, unemployment status or any other characteristic prohibited by federal, state and/or local laws. This policy applies to all aspects of employment, including hiring, promotion, demotion, compensation, training, working conditions, transfer, job assignment, benefits, layoff, and termination.