1111 Lincoln Road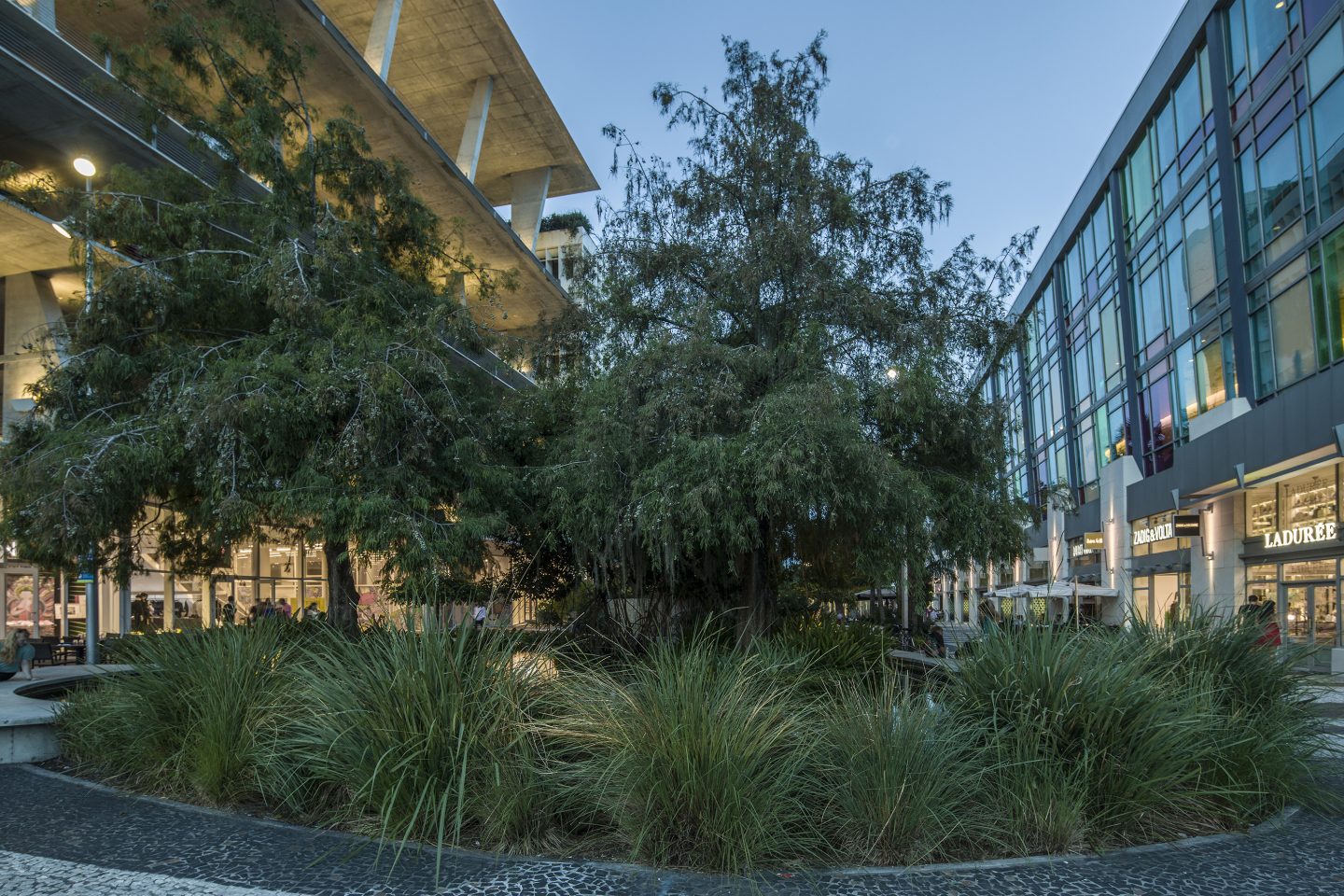 The design for 1111 Lincoln Road bridges the urban dweller with nature, affording vantage points and multi-functional areas for the users of this foremost historic pedestrian mall in Florida … Read More
The design for 1111 Lincoln Road bridges the urban dweller with nature, affording vantage points and multi-functional areas for the users of this foremost historic pedestrian mall in Florida. The roadway turned greenway and waterway is an Everglades-inspired environment where specimen Cypress trees anchor the "urban glade" within the plaza. The repedestrianized block of Lincoln Road has created an unparalleled variant of civic space in Miami Beach.
Raymond Jungles was hired by the client, Robert Wennett, to lead the landscape design, in collaboration with the architecture firm, Herzog & de Meuron. The design of 1111 Lincoln Road aspires to be bold, simple and timeless. Water is used to botanically enrich the spaces, with all four ponds linked into one system that uses gravity and biofiltration. The equipment for the 1100 block is contained in a sculptural vault which is melded into the plaza through a series of platforms, or stages, reducing the impact of its necessary scale. Integrated plantings and water cascade from the top level, a secret ceremonial vantage point, now popular with adventurous children and adults.
All of the trees are native, including Live Oak, Pond Apple, Red Mangrove, Bald Cypress and Lignum Vitae, with the exception of the Guiana Chestnut or Money Tree. The Money Tree is from Brazil and other Central and South American countries. It is said to bring good fortune and tolerates shade and high water tables. It was selected for these qualities and was placed where other trees would falter. Beneath the pavement and water gardens are copious amounts of planting soil, approximately 400 cubic feet per tree, which was provided to ensure the future health of the trees. Indigenous grasses and water plants comprise most of the balance of the plant material and are used in large, wild drifts, thus softening the abundance of hard surfaces.
Our firm's ideologies on demonstrating a region's unique natural characteristics and desire to create a closer human relationship with indigenous plants were embraced by all. The City of Miami Beach Planning Department's Assistant Director gave the project the name "urban glade." The eponymous water environments are symbolic of native ecosystems, and turtles, fish and the sound of gently cascading water enliven the space. The highly reflective pond surfaces mirror the sky, trees and plaza participants.
2013 Architizer A+ Award for Landscapes and Gardens
2012 Award of Excellence in Landscape Architecture, American Institute of Architects Miami Chapter
2011 Beautification Award, City of Miami Beach, Florida
2011 Award of Excellence, Florida Chapter American Society of Landscape Architects
Year of Completion

2010

Location

Miami Beach, Florida

Architecture

Herzog & de Meuron

Photography

Steven Brooke, Stephen Dunn, Robin Hill

General Contractor

G. T. McDonald Enterprises, Inc.

Landscape Contractor

Superior Landscaping, Inc. and Plant Creations, Inc.

Water Feature Consultant

Edgewater Exhibits

Specimen Tree Broker

Sean Jacobus

Lighting Designer

Leni Schwendinger

Civil Engineer

Kimley-Horn and Associates, Inc.

Urban Soil and Tree Consultant

James Urban