1111 Lincoln Road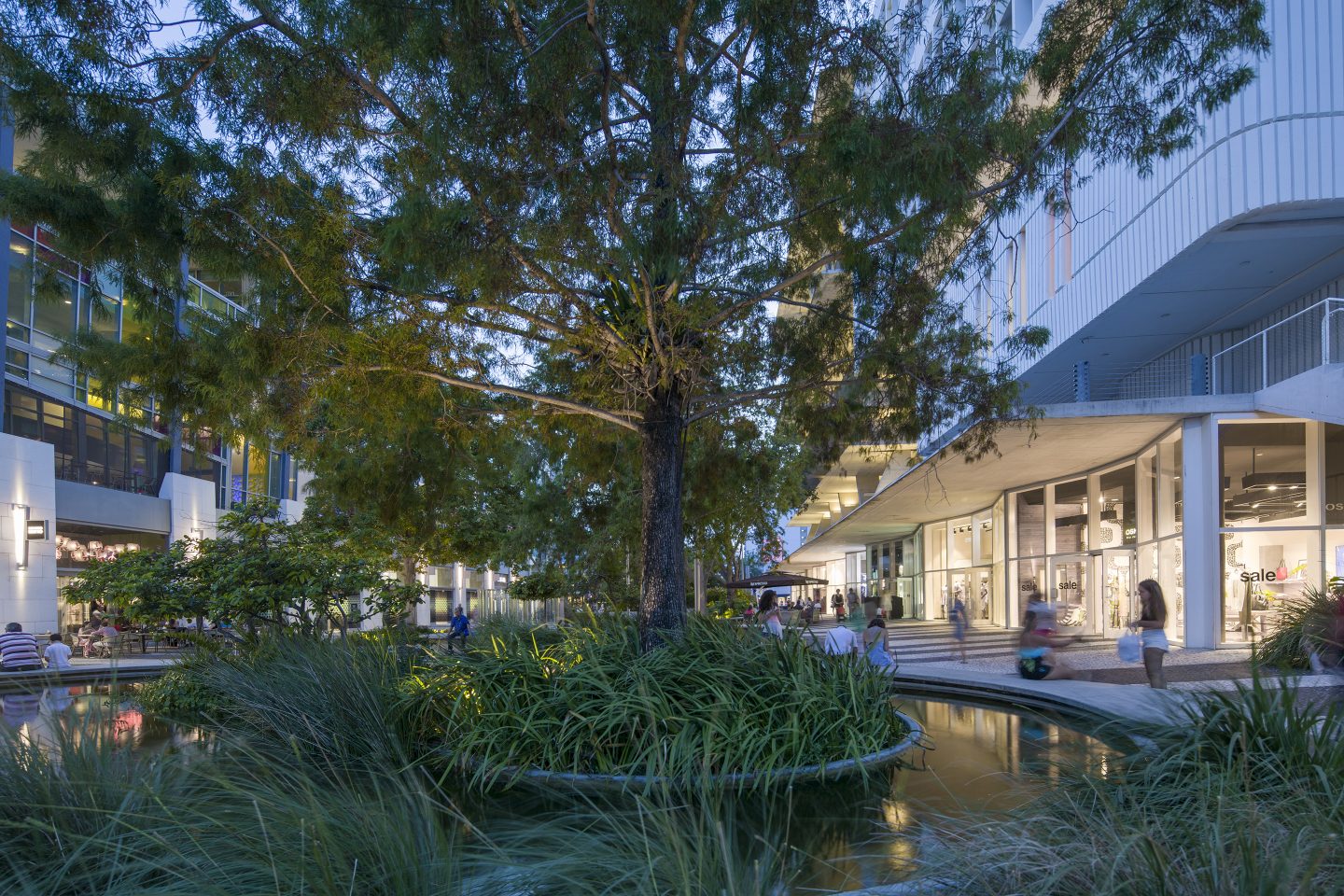 The design for 1111 Lincoln Road bridges the urban dweller with nature, affording vantage points and multi-functional areas for the users of this foremost historic pedestrian mall in Florida … Read More
The redesign for the historic promenade and plaza at 1111 Lincoln Road, developed concurrently with Herzog & de Meuron's now iconic parking garage, completely revitalizes the westernmost block of Lincoln Road Mall. Native plants and hardscape elements are carefully placed to create various vantage points and visual corridors for pedestrians—one of the project's main goals. Sight lines through the block are also preserved thanks to massings of low plants and high tree canopies to ensure that visitors can engage with retail, residential, and restaurant spaces along both sides of the street. The result is a civic space unlike any other in the city; the City of Miami Beach Planning Department's assistant director dubbed the project "the Urban Glade."
To bring nature into the center of Miami Beach along this roadway-turned-greenway, Jungles looked to the Everglades—a region with unique characteristics and a wide variety of indigenous plants—for inspiration. An ensemble of trees native to Florida and geometric water gardens reminiscent of the famous wetland ecosystem create an inviting gathering space, and turtles, birds, fish, and the sounds of gently cascading water enliven the setting. The highly reflective pond surfaces also mirror the sky, trees, and human visitors, adding extra dimension to the narrow urban site.
Specimen cypress trees anchor the display of vegetation within the plaza; other indigenous trees also feature prominently in the design, including live oaks, pond apples, red mangroves, and sabal palms. One nonnative tropical wetland tree was included as well—a Guiana chestnut tree. This "money tree" is indigenous to Central and South American countries. Besides tolerating shade and high water tables, it is a symbol of good fortune. It was selected for all these qualities and was placed where other trees might falter.
The pond maintenance equipment and mechanical systems for the 1100 block are contained in a sculptural vault that is melded into the design of the plaza through a series of stepped platforms. These reduce the impact of its necessary scale, which is further concealed by plants that cascade and a water element that trickles or flows slowly between the bold roots of the red mangroves. Climbing to its top level has become a local tradition for adventurous children and adults, and each stage of the ascent also provides a new vantage point over the area.
The wonderful qualities and materiality of Brazilian pedra portuguesa led to its use on the ground plane and throughout the project's other hardscape features. Its mosaiclike texture adds a handcrafted quality to the space and has the additional benefit of gently discouraging skateboarders. Each stone was laid by hand in the style of Roberto Burle Marx, the visionary Brazilian landscape designer. Generously proportioned concrete benches accommodate daily visitors as comfortably as small crowds viewing performances in the space. The opportunity for spontaneous human interaction now abounds in this reinvigorated area.
2013 Architizer A+ Award for Landscapes and Gardens
2012 Award of Excellence in Landscape Architecture, American Institute of Architects Miami Chapter

2011 Beautification Award, City of Miami Beach, Florida

2011 Award of Excellence, Florida Chapter American Society of Landscape Architects
Year of Completion

2010

Location

Miami Beach, Florida

Architecture

Herzog & de Meuron

General Contractor

G. T. McDonald Enterprises, Inc.

Landscape Contractor

Superior Landscaping, Inc. and Plant Creations, Inc.

Water Feature Consultant

Edgewater Exhibits

Specimen Tree Broker

Sean Jacobus

Lighting Designer

Leni Schwendinger

Civil Engineer

Kimley-Horn and Associates, Inc.

Urban Soil and Tree Consultant

James Urban

Photography

Steven Brooke, Stephen Dunn, Robin Hill