Apogee Garden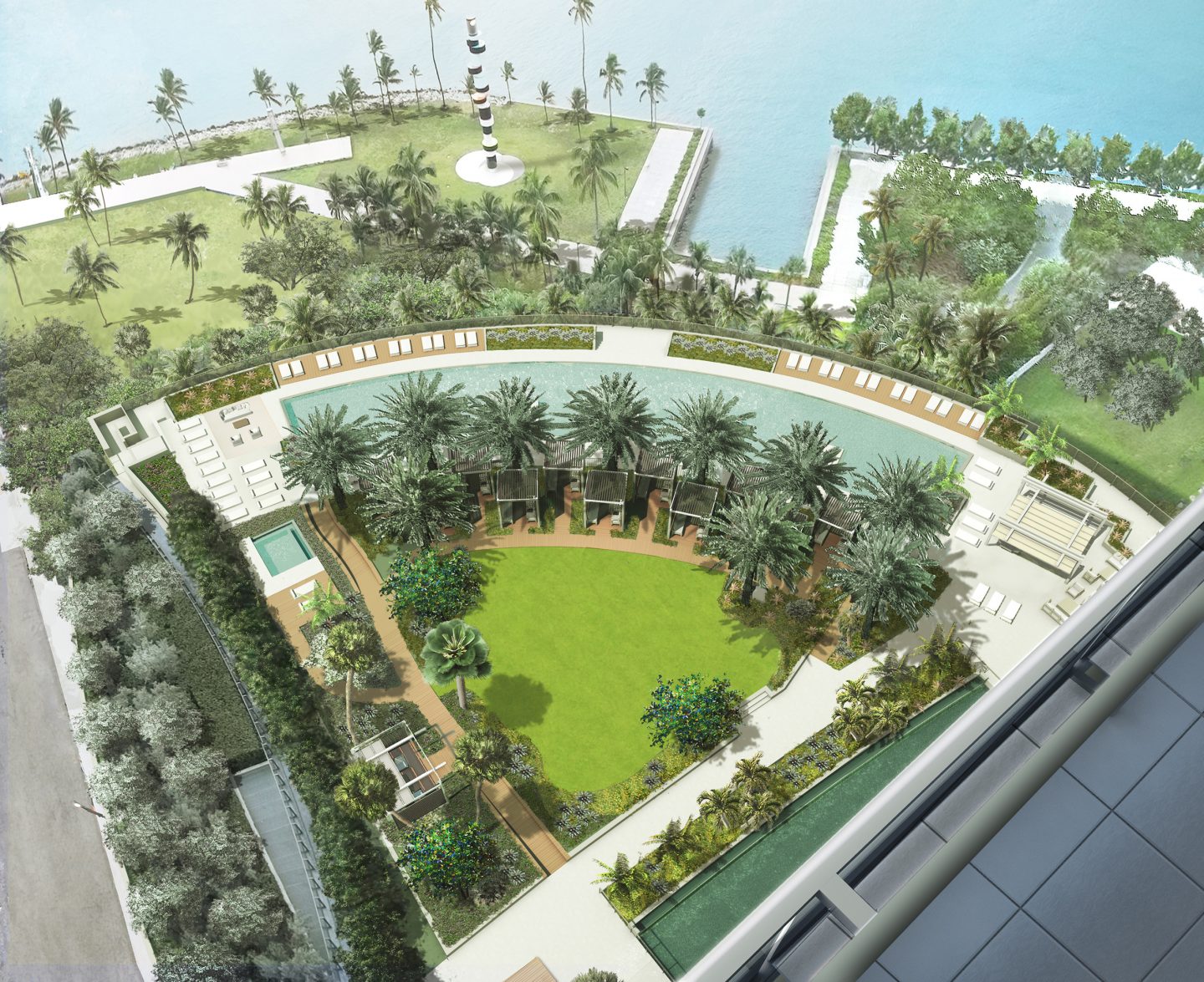 The Apogee Condominium overlooks South Pointe Park's western edge, on axis with Tobias Rehberger's sculpture Obstinate Lighthouse. Views westward across the pool connect strongly to Government Cut, Dodge Island and the Miami skyline … Read More
The Apogee Garden overlooks South Pointe Park's western edge, on axis with Tobias Rehberger's sculpture Obstinate Lighthouse. Views westward across the pool connect strongly to Government Cut, Dodge Island, and the Miami skyline. The residents of the condominium were seeking to renovate the existing pool deck to create more functional spaces and improve the user experience. The circulation network of the original pool deck was shaped by its rigid geometry. Abrupt angular movements created awkward tensions while navigating through the interior planters. Existing step and ramp transitions were designed to accommodate a single user without consideration as to how larger user groups use these spaces. By developing a simple circulation framework, we sought to accommodate a range of user groups and entice fluid movements unifying elements such as recreation, lounging, gathering, and private spaces.
Most of the pool deck was previously underutilized or was simply dead space and lacked shade. The landscape architect's solutions to these issues included additional cabanas, creating lounging areas and planting beds over existing steps, converting water features to planting beds, moving the spa to a more private and elevated location gaining skyline views, and by creating a raised planting area which could accommodate trees and an event lawn.
The previous planting palette was limited in variety, and the expanded planting areas that were created allowed for much more biodiversity and intimate garden experiences. The original pavers were also replaced with larger travertine tiles to complement the detailing of the new walls and copings. Wood decking, reclaimed from Greenheart dock pilings, was incorporated to create new garden pathways, a yoga deck, and the lounge ledges.
Both the design iterations and construction implementation were challenged by existing and unforeseen conditions including structural, utilities, and the project budget. The complexity of creating a rooftop garden was enhanced due to the constraints of the existing structure over the parking garage and accommodating additional structural loads of the new design.
Life safety and ADA requirements had to be maintained and redesigned due to the existing access points, lighting levels, and changes of grade elevations on the deck. Leaks in the existing waterproofing were known in certain locations, but during construction, it was discovered that a significant planting bed that was planned to be maintained, also had compromised waterproofing. A monolithic waterproofing membrane was necessary to achieve the desired warranty.
New drainage solutions were required by drilling through the existing foundation slab, and by carefully maintaining other existing drains to re-use. The event lawn and surrounding planting beds were created by retaining walls to gain sufficient soil depth. Existing planter openings that protruded into the deck's interstitial level were selectively maintained to achieve the additional soil depth required for larger trees and palms.
Year of Completion

2018

Location

Miami Beach, Florida

Client

Apogee Condominium Association

General Contractor

Peterbilt Construction

Rendering Consultant

LandscapeDE

Lighting Consultant

O'Brien Lighting, Inc.

Landscape Contractor

Vincent Filligenzi + Reliable Property Services

Structural Engineer / MEP Engineer

Bromley Cook Engineering / Steve Feller, PE

Photography

Stephen Dunn, Roger Foley