Casa Bahia Garden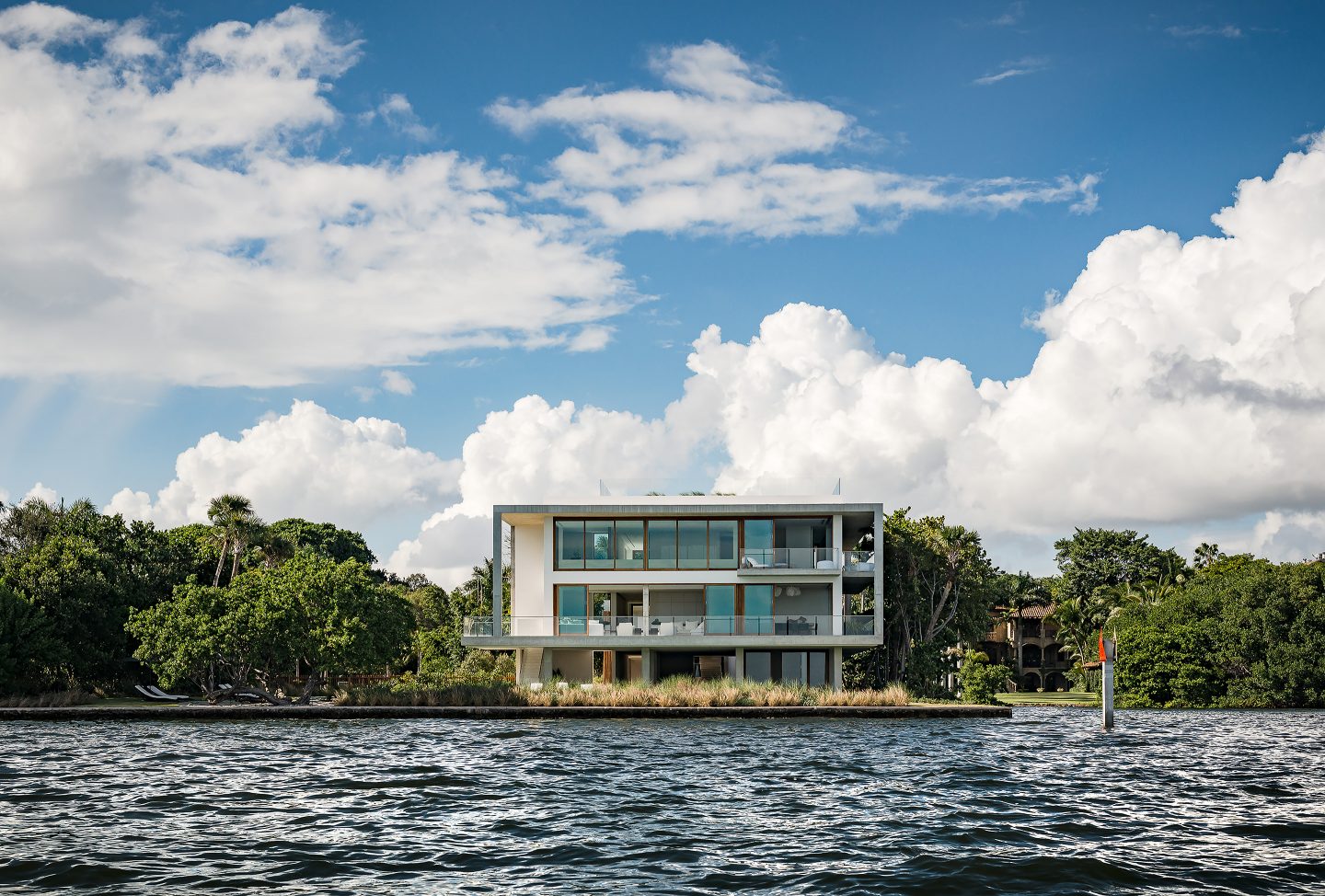 The Casa Bahia Garden sits on one of the most idyllic waterfront lots in Coconut Grove. Both the north and east sides of the property provide sensational water views and a full vista of downtown Miami's skyline. Filmmaker-turned-designer, Alejandro Landes, worked with Jungles, Zyscovich Architects, and his own mother, Catalina Echavarría, to design this 13,483 […] … Read More
The Casa Bahia Garden sits on one of the most idyllic waterfront lots in Coconut Grove. Both the north and east sides of the property provide sensational water views and a full vista of downtown Miami's skyline.
Filmmaker-turned-designer, Alejandro Landes, worked with Jungles, Zyscovich Architects, and his own mother, Catalina Echavarría, to design this 13,483 sq. ft. "tropical modern" speculative home that appears to float above the land in homage to the expansive waters of Sailboat Bay.
The footprint and masing of the structure had to be approved by a strict homeowners' association, as it was the last open lot on the water looking out over the bay and the community had grown accustomed to direct water views. Ultimately, the clients acquiesced to many setbacks and unobstructed viewsheds. Jungles conceptualized a minimal hardscape plan focused on loose gravel and a beach-chic plant palette primed for the occasional saltwater inundation from high tides and hurricanes.
The house went on the market as planned, and one of Jungles's repeat clients purchased the lot. He worked with the new clients on a modified concrete driveway design, a new alfresco deck for dining by the water, and improved access to the 70-foot-long swimming pool. Now, new walkways circumnavigate the property, and a dock area fosters water access for the launching of paddleboards.
Jungles kept the strong parts of the existing landscape and improved and customized the garden to the likes of the new owners. He brought in specimen plants from the clients' 5-acre property including a rare palm collection of Corypha umbraculifera, Copernicia gigas, Copernicia fallense, and Copernicia baileyana. He preserved the specimen green buttonwood tree and moved the sea grape trees to the canal side. A flowering Bombax speciosa arrived by barge as a gift from the landscape contractor.
From the street, towering clumps of bamboo and native hammock plantings create a sense of privacy and soften the crisp white architecture. The landscape transitions towards the rear of the property to feature lush, low groundcovers, and soaring sabal palms that naturally twist to frame the unparalleled views from the residence.
The landscape and architecture appear to blend effortlessly within an open-air atrium that features a two-story water wall and a dramatic, suspended shell reef limestone staircase that connects the guest wing and home wing. The need for privacy and air circulation led to the selection of reclaimed greenheart dock pilings for the vertical screening—something very strong yet organic—to tie the two massings together. The unique texture and color of the wood slats complement the timeless aesthetic of the structures and create moving shadows throughout the day.
At Casa Bahia, nature and contemporary architecture coexist in a seaside setting in Historic Coconut Grove.
2021 Award of Honor, Florida Chapter, American Society of Landscape Architects
Year of Completion

2015 and 2019

Location

Coconut Grove, FL

Design Leads

Alejandro Landes, Catalina Echavarría

Architecture

Zyscovich Architects, Jerry Gavcovich

General Contractor

Shorecrest Construction

Landscape Contractor

Plant Creations, Inc.

Structural Design

Optimus Structural Design LLC

Lighting Design

Claudia Paz

Photography

Joe Fletcher, Robin Hill