Dilido Garden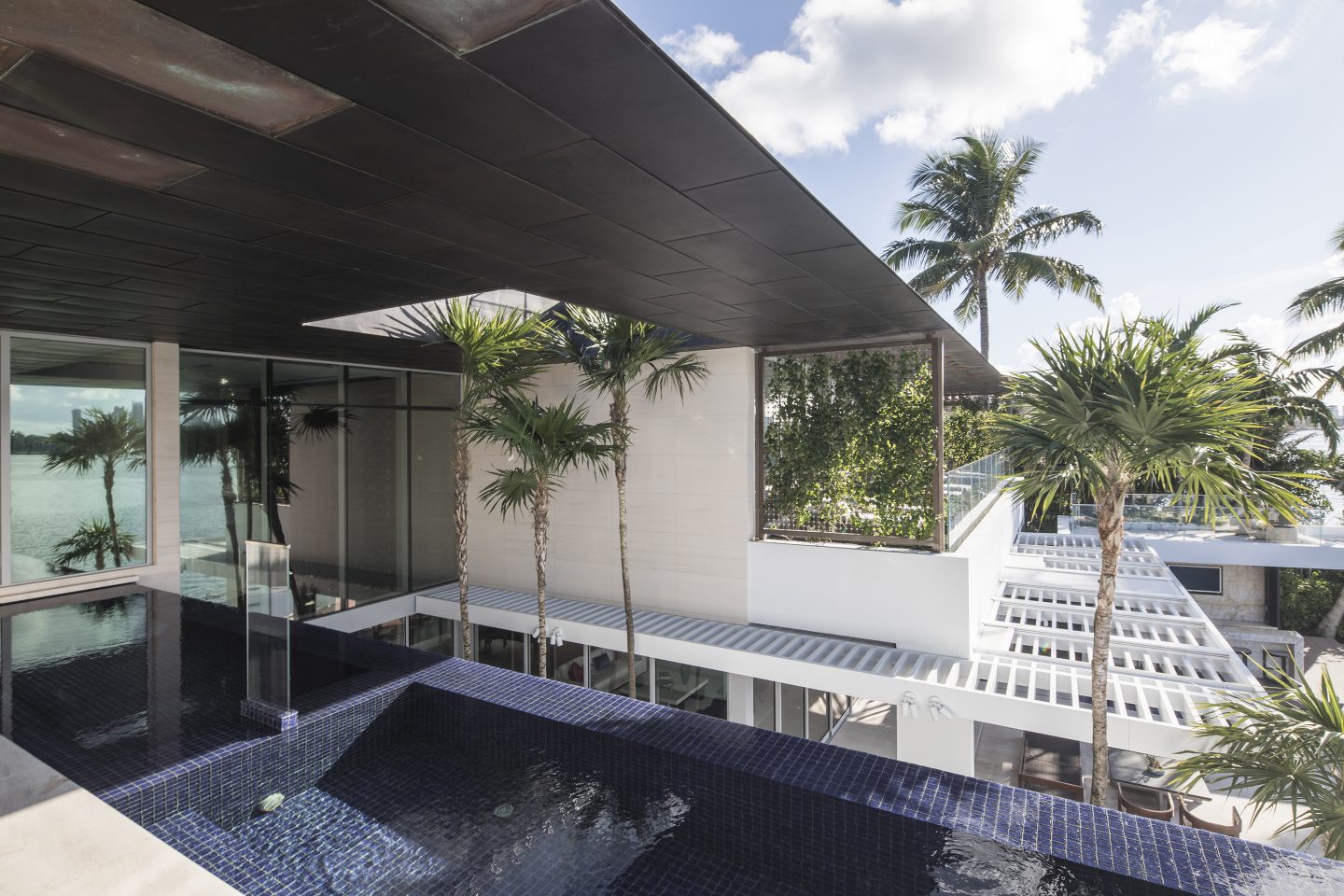 The Dilido Garden is a programmatically intensive residential garden on a pie-shaped lot on the southern tip of Di Lido Island in Miami Beach. This man-made island is the third island from the east of the Venetian Islands, a chain of artificial islands in Biscayne Bay in the cities of Miami and Miami Beach. The […] … Read More
The Dilido Garden is a programmatically intensive residential garden on a pie-shaped lot on the southern tip of Di Lido Island in Miami Beach. This man-made island is the third island from the east of the Venetian Islands, a chain of artificial islands in Biscayne Bay in the cities of Miami and Miami Beach. The SAOTA-designed architecture spills out onto the longer waterfront elevation, where water gardens with green walls and exterior garden rooms complement views of the Venetian Islands, downtown Miami, and South Beach.
The constrained site called for tactful coordination of proposed underground utilities to designate unobstructed soil space to install large-scale plantings for maximized privacy from the neighboring homes a mere 10-20 feet away.
As guests arrive from the Venetian Causeway, they are greeted with a grand double-volume entrance hall with water gardens and overhead vines creeping through curved screens of etched glass.
SAOTA's designs are known to maximize the building setbacks. In doing so, they leave thoughtful voids within the architectural footprint to invite the garden in. Jungles designed multiple gardens rooms to complement these pockets poised for green. He designed the second-floor master suite terrace with a private splash pool and a hot tub. The roof terrace, accessed only by elevator or interior grand staircase, includes an outdoor lounge, bar, fire pit, and a hot tub element with compelling views of Miami's skyline.
Jungles enjoyed designing the many verdant garden spaces throughout.
Year of Completion

2017

Location

Miami Beach, Florida

Owner Representative

Prime Group Management

General Contractor

Brodson Construction

Architecture

SAOTA / Kobi Karp

Interior Design

Lynda Murray Interior Design

Pool Consultant

Aquatic Consultants, Inc.

Landscape Contractor

Bermuda Landscape and Design

Green Wall Consultant

GSky Plant Systems, Inc.

Photography

Robin Hill