Five-Acre Garden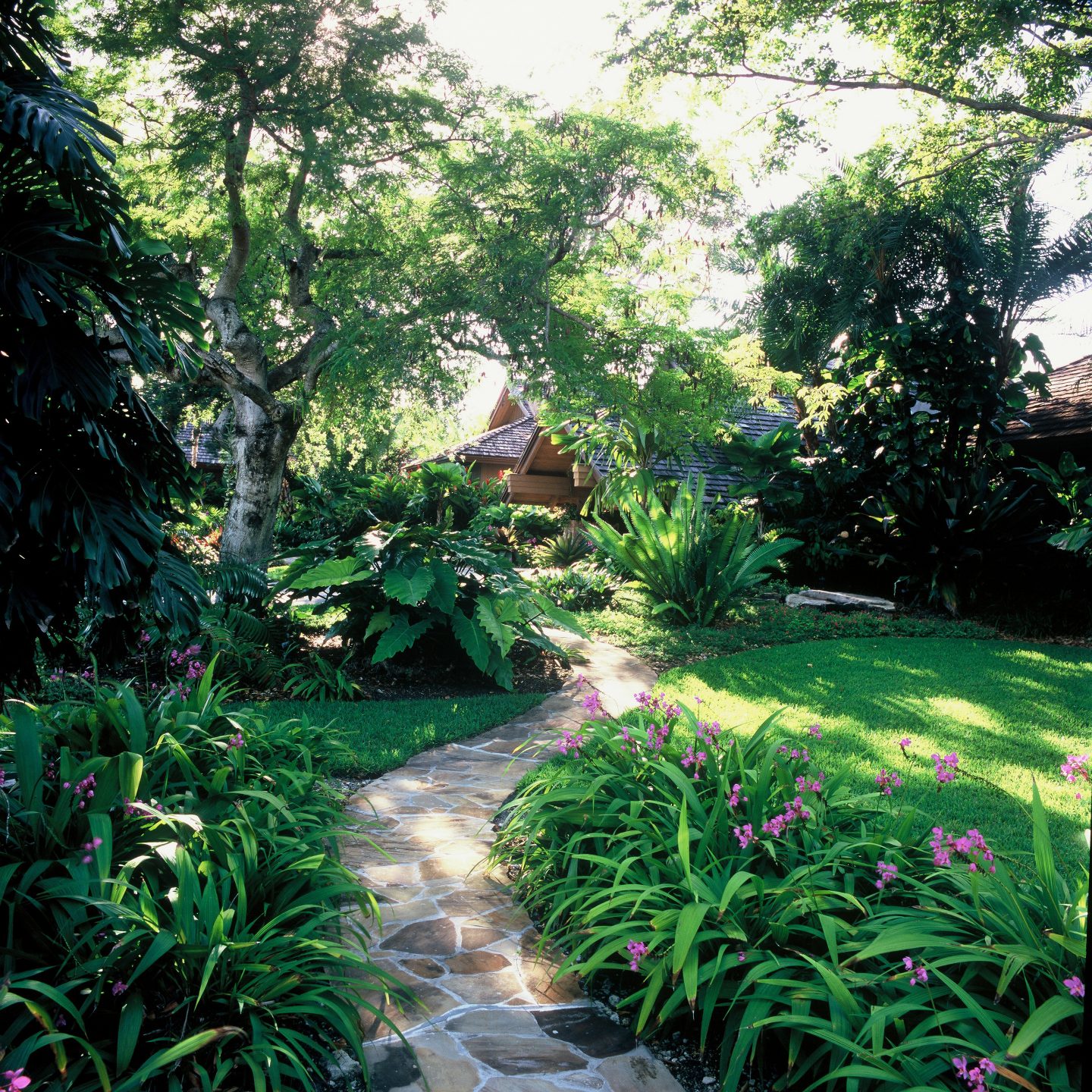 Repeat clients remind Jungles that past designs are both meaningful and successful. In this case, the clients needed more space for themselves and their four young children. They wanted something on the scale of a botanical garden, with lots of color and a very tropical ambiance. The new house was set deep into the five-acre […] … Read More
Repeat clients remind Jungles that past designs are both meaningful and successful. In this case, the clients needed more space for themselves and their four young children. They wanted something on the scale of a botanical garden, with lots of color and a very tropical ambiance.
The new house was set deep into the five-acre corner site, allowing Jungles and his team to establish an entrance that would provide privacy and security. The drive first crests a hill, giving an overview of the grounds, then meanders through the property. Jungles designed numerous theatrical moments where the drive might narrow to pathlike dimensions, bringing the foliage close enough to touch, or broaden, to accommodate passing cars and emphasize the expansive garden space.
One of the biggest challenges was to eliminate the suburban feeling that typically results on a vast yet urban site. The master plan called for replacing an asphalt driveway with an elevated pedestrian plaza adjacent to the front door. Across the drive, under the shade of a mature live oak tree, the parents can relax while their children frolic on the great lawn. A fountain in a nearby pond sends up a single vertical stream, then splashes against a floating oolite limestone monolith covered with moss and ferns, providing spatial animation. In another area, an abstract bubbling spring rises from a stone shelf, appears to flow between floating monoliths, then spills into the pond below Daily fish feedings are conducted from an oolite limestone bridge that spans the pond at its narrowest point.
The existing pool felt like a giant rock pile. Jungles and his team softened the stone by adding numerous plants that thrive in a minimal soil environment. Hurricanes had convinced the owners to eliminate the ubiquitous Florida screen enclosure around the pool, opening it up to the surrounding landscape. The design team created space under the mature native trees and introduced an over-scaled Seminole chickee. This traditional Native American thatch pavilion, forty by twenty feet, was installed by local Miccosukee tribe members and is used for casual living.
The chickee also functions as the gateway to the property. A flagstone path links the various garden rooms, winding through numerous new planting beds and rising to become an elevated plaza adjoining the tennis court. The plaza/path, like the tennis court, may be transformed into a large dining patio. Then the path rises to the highest point of the site, a hill Jungles created with fill from the lake's excavation. The view from this elevated position encompasses the great lawn and the pond beyond.
In 2020, Jungles embarked on a redesign of the site with architect, Cesar Molina. The schematic site plan highlights many new design moves.
Year of Completion

2002

Location

Miami, FL

Landscape Conractor

Plant Creations, Inc.

Photography

Richard Felber