Island Modern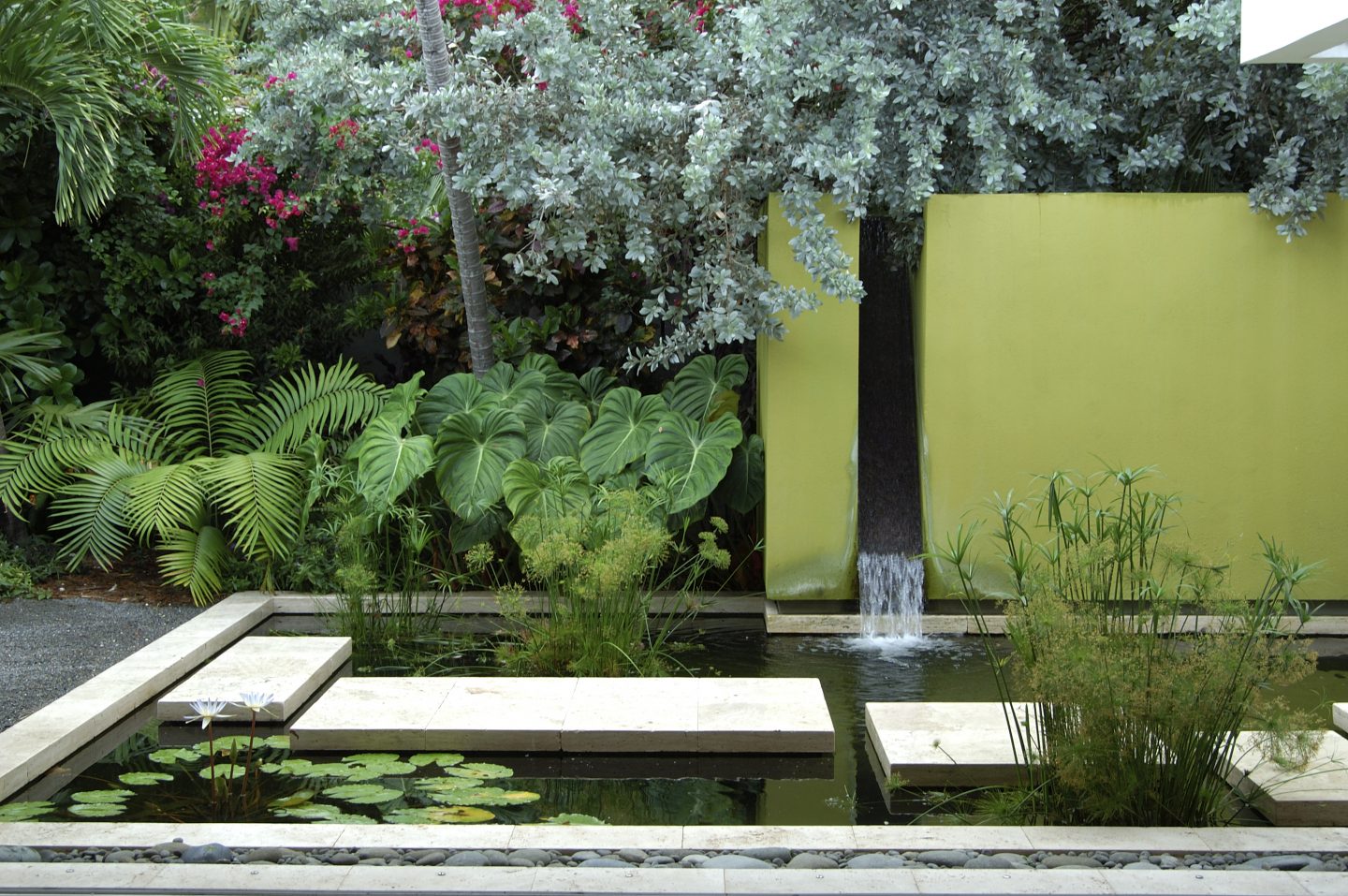 Garden architecture enriches the entrance sequence and provides a presence to contrast with the lush, mostly indigenous plantings. The carport defines the point of entry … Read More
Our clients purchased this Key West property as a warm-weather family getaway. The couple wanted to integrate the garden and the interior of the suburban, 1940s one-story residence, a tactic they had noted in other projects of ours.
We did studies to develop an ideal floor plan, taking into account site limitations and zoning regulations. Along with architect Rob DeLaune, we developed a central living space that spans from property line to property line. Fountains animate both sides of the living space. Wide expanses of pocket doors, normally kept open, erase the separation between indoors and out. We recommended building a swimming pool in place of the asphalt circular driveway, converting the garage into a master bedroom suite, and integrating garden atriums into the plan.
Garden architecture enriches the entrance sequence and provides a presence to contrast with the lush, mostly indigenous plantings. The carport defines the point of entry. An aluminum trellis suspended between the carport and the residence shelters the entry walk. Its pivoting gate allows views into the garden. The walk is transformed into a series of slabs that float above a small water garden. A fountain fed by a one-half-horsepower pump tumbles into the water garden.
The plain side elevation of the building is tucked behind a large garden wall. Perforations of various sizes in the wall frame garden views from the children's bedrooms and either restrict or enable movement. By the pool, the wall turns to become an outdoor shower.
The reflective surface of the swimming pool is a window to the sky. Privacy from the two-story residences across the street is provided by various layers of indigenous trees; these were selected to reach a dense, mature height of twenty feet and to provide habitat for local birds and butterflies. The master bedroom suite has multiple garden views and an open feeling throughout. A private atrium adjacent to the master bathroom and shower allows for light and garden views to penetrate the core of the rooms, creating a seamless connection between indoor and outdoor spaces.
2005 National Honor Award, American Society of Landscape Architects
2005 Frederic B. Stresau Award of Excellence, Florida Chapter American Society of Landscape Architects
2005 Residential Design Award of Excellence, Florida Chapter American Society of Landscape Architects