Miami Beach Botanical Garden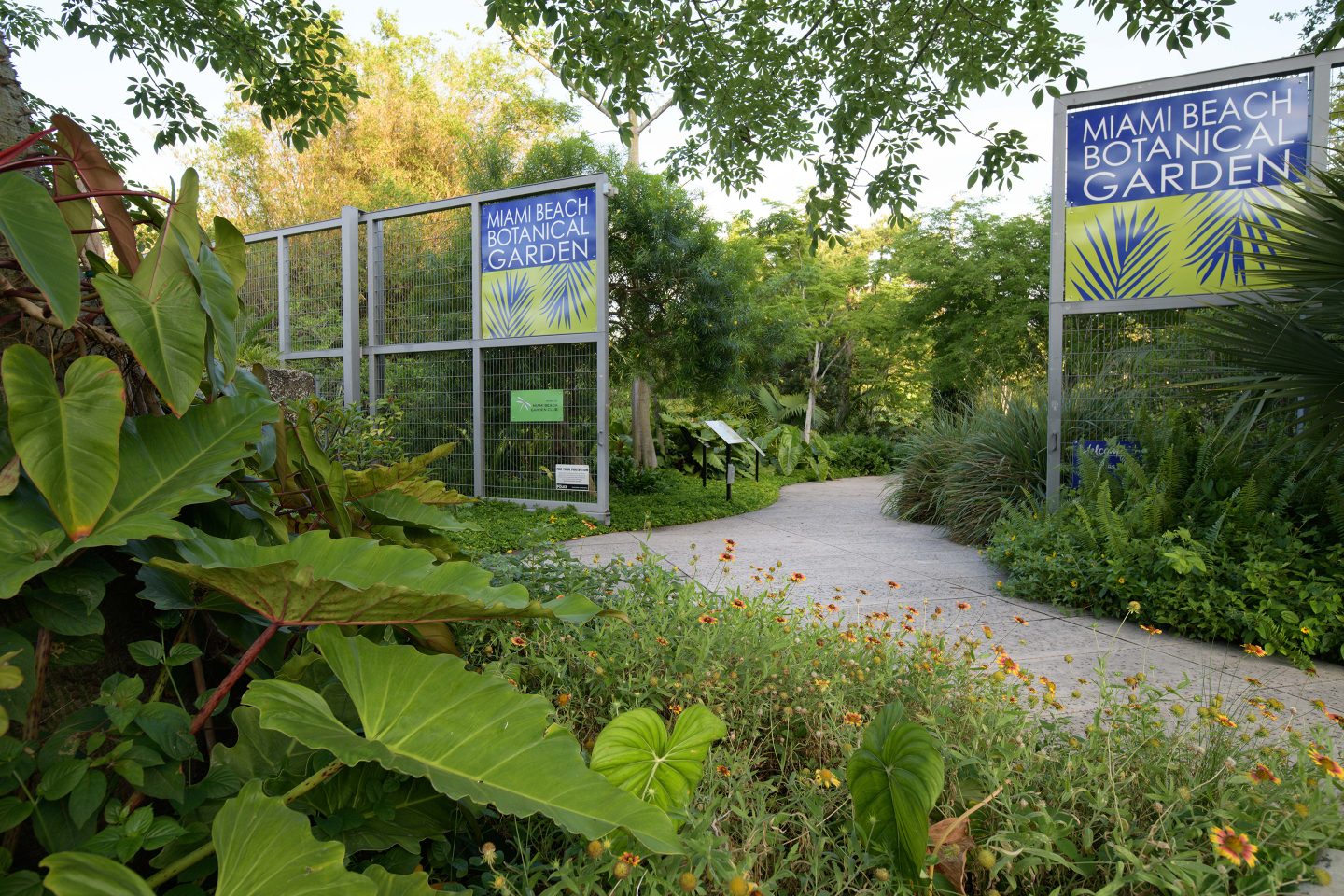 Miami Beach Botanical Garden, created in 1962 as a city park, is a 2.6 acre botanical garden in the heart of Miami Beach. The garden experienced a $1.2 million dollar landscape renovation … Read More
Miami Beach Botanical Garden, created in 1962 as a city park, is a 2.6 acre botanical garden in the heart of Miami Beach. The garden experienced a $1.2 million dollar landscape renovation, funded and managed by a public-private partnership with the Miami Beach Garden Conservancy and the City of Miami Beach.
The enlivened urban green space compensates for its limited size with its tremendous botanical diversity. The design is ultimately about the articulation of spaces; gathering space, space for contemplation, intimate space, and public space. With the constraints of a very limited budget, Raymond and his team decided to make the most of what was already there. They chose to change certain elements of the existing garden that would have the most impact, while also creating a variety of garden rooms that would have their own character and energy.
There is a new sense of entry. It is processional, creating multiple experiences as one enters the garden. Raymond created a very long site line when visitors first enter the garden, which magnifies the scale of what is presently there.
Water remains a vital element in all of our gardens, particularly in a botanical garden, where water plants aid in increased botanical diversity while creating essential open space—a place to interact with and appreciate water's reflective qualities. A large water garden now welcomes the sky into the garden, animates the space, and reflects the landscape. The water aids in cooling the areas directly around the buildings and once again magnifies the sense of scale.
Rather than having native plants tucked into a designated corner of the garden, they are linked throughout, highlighted for their performance in an urban environment. Larger quantities of native plantings were selected, intended to weave together the urban habitat. The layers of native and flowering plants provide refuge and areas of exploration for the insects, birds, and other creatures that enrich and enliven the spaces. The garden's in-house horticulturist gave Raymond a wish list of plants to incorporate into his design. The garden's plant palette includes flowering trees, palms, cycads, and other subtropical plants that have the true scale to fit the garden space.
Raymond and his team suggested upgrades to the existing buildings to promote increased circulation through the atrium. In order to do so, the nursery and propagation area was relocated to a larger space at the northeast corner of the garden.
With improved circulation—both artful and practical—the garden is now able to schedule multiple and simultaneous events on the grand lawn and exterior terraces. These interventions have increased the garden's rental appeal and capacity. Social gatherings include the garden's annual outdoor "Taste of the Garden", the weekly green market, garden yoga, theatrical performances, and private wedding receptions.
With free admission, the garden is frequented by locals who seek respite from the congestion of Miami Beach or tourists who arrive at this urban oasis by happenstance.
2015 Award of Honor, Florida Chapter American Society of Landscape Architects
2011 Certificate of Appreciation, The City of Miami Beach, Florida
Year of Completion

2011

Location

Miami Beach, Florida

Client

City of Miami Beach and Miami Beach Botanical Garden

General Contractor

Harbour Construction

Landscape Contractor

Vincent Filigenzi Design

Consultants

Masuen (Irrigation), Edgewater Exhibits, LLC (Aquatic), Greenbrook Pools (Water Features)

Plant Donations

Bullis Bromeliads, Botanics Wholesale, Plant Creations, Inc., Southeast Growers, and Doug Ingrams Nursery

Photography

Steven Brooke, Stephen Dunn, Robin Hill