Coccoloba Garden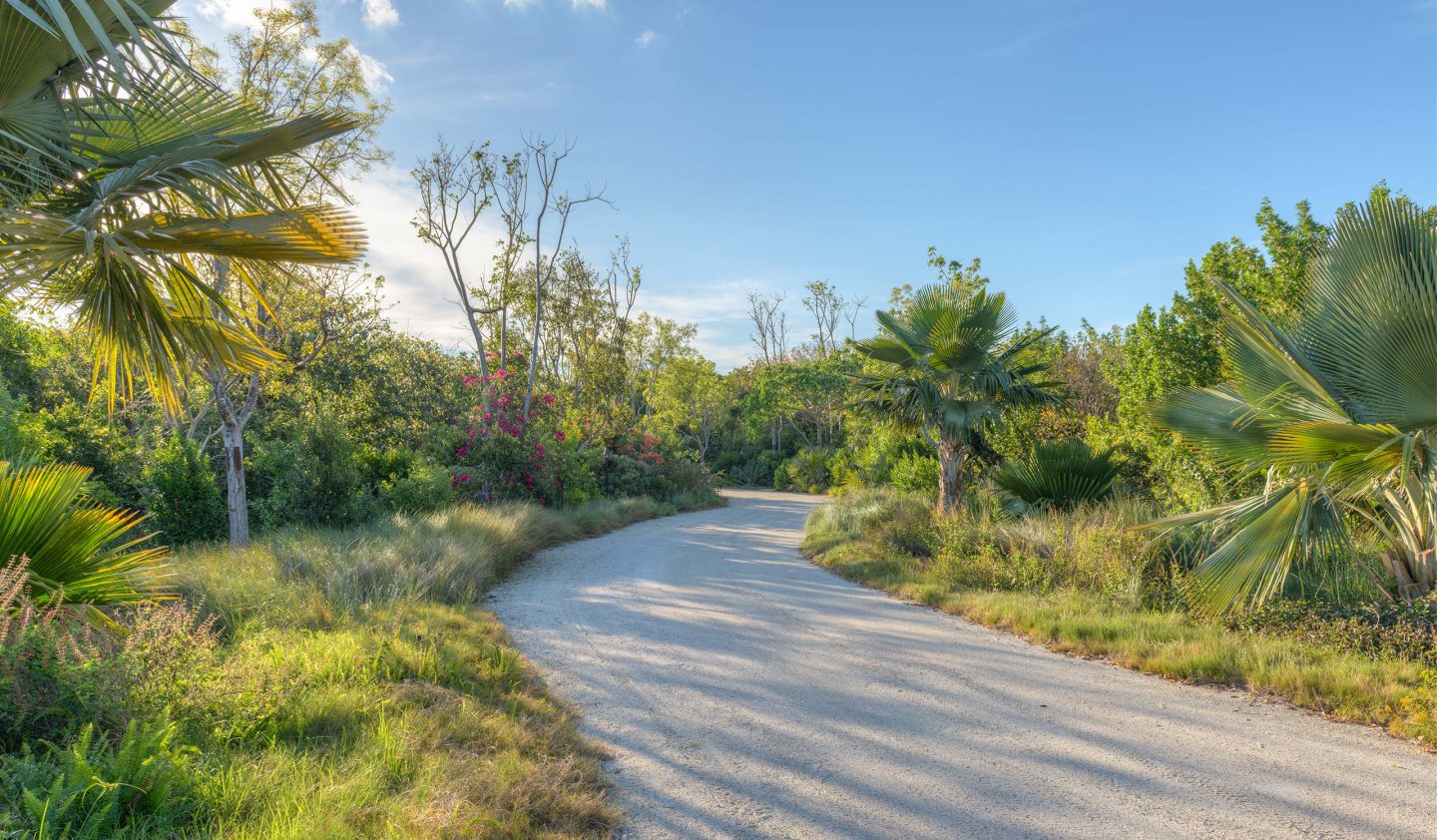 Located 78 miles from Miami in the Florida Keys, the Coccoloba Garden rests on top of an ancient coral reef that is more than 125 million years old. The project site is seven acres in area, 11% of which is protected second growth native forest with an existing brackish pond where previous owners quarried fossilized […] … Read More
Located 78 miles from Miami in the Florida Keys, the Coccoloba Garden rests on top of an ancient coral reef that is more than 125 million years old. The project site is seven acres in area, 11% of which is protected second growth native forest with an existing brackish pond where previous owners quarried fossilized limestone as a part of the commercial shrimp farm operations. The fossilized limestone, commonly called Keystone, is rare and can only be found in Monroe County, Florida.
Given the length of the entry sequence from arrival on the historic Overseas Highway constructed in 1926, to the waterfront residence, the landscape architect aspired to create as many habitats, vistas, and garden spaces as possible. The natural entry drive changes in horizontal and vertical alignment to impart a feeling of surprise and discovery.
To mitigate the cost of the garden, the pond was enlarged, and lowlands were created to harvest as much keystone on the site as possible. Fill from the excavations was used to vary the site's flat grade and keystone monoliths were sold to offset the proposed keystone pool decking, driveway, and terrace paving. More common Miami Dade County oolite limestone monoliths were provided in trade for the creation of retaining walls, floating stepping pads, and sculptural elements such as weirs that cascade to the enlarged pond. Aquatic experts were engaged to stock the pond with indigenous species of fish that would thrive in the tidal fluctuations and extend the red mangrove forest environment. Most plant material is from the indigenous Florida Keys landscape, one of the ecosystems with the highest plant biodiversity in the continental United States.
The buildable part of the site is in a flood zone, subject to hurricane storm surges, battering wind, and airborne salt spray. Regulations required the building to be built 6 feet above existing site elevations. Working with the architects, the landscape architect endeavored to create a sustainable, naturalistic landscape or landform which would meet code, rising gradually to the required height for the residence.
It was critical to create a landscape that could survive the seasonal dry period (approximately 50% of the year), saltwater inundations from storms, and the constant wind bearing airborne salt. The garden was put to the test upon completion in 2017 when Hurricane Irma made a direct hit. Although there were storm surge related erosion issues and toppled trees, the garden was completely restored within a year's time.
Great teamwork between an enlightened client, the architect at the helm, a landscape architect familiar with their work, great craftsmanship and builders, and a knowledgeable landscape contractor with more than 25 years of experience building the landscape architect's gardens, created a successful, timeless garden that surprises and delights.
Year of Completion

2018

Location

Islamorada, Florida

Architecture

Steve Siskind, AIA and Bruce Carlson, AIA

General Contractor

D Garrett Construction, Inc.

Landscape Contractor and Irrigation Consultant

Plant Creations, Inc.

Water Feature + Natural Stone Specialist

Aquatic Construction Services, LLC.

Photography

Stephen Dunn

Interior Design

Sam Robin, Inc.

Lighting Design

PCL Landscape Lighting

Landscape Consultant

Signature Trees & Palms