Eloise Pavilion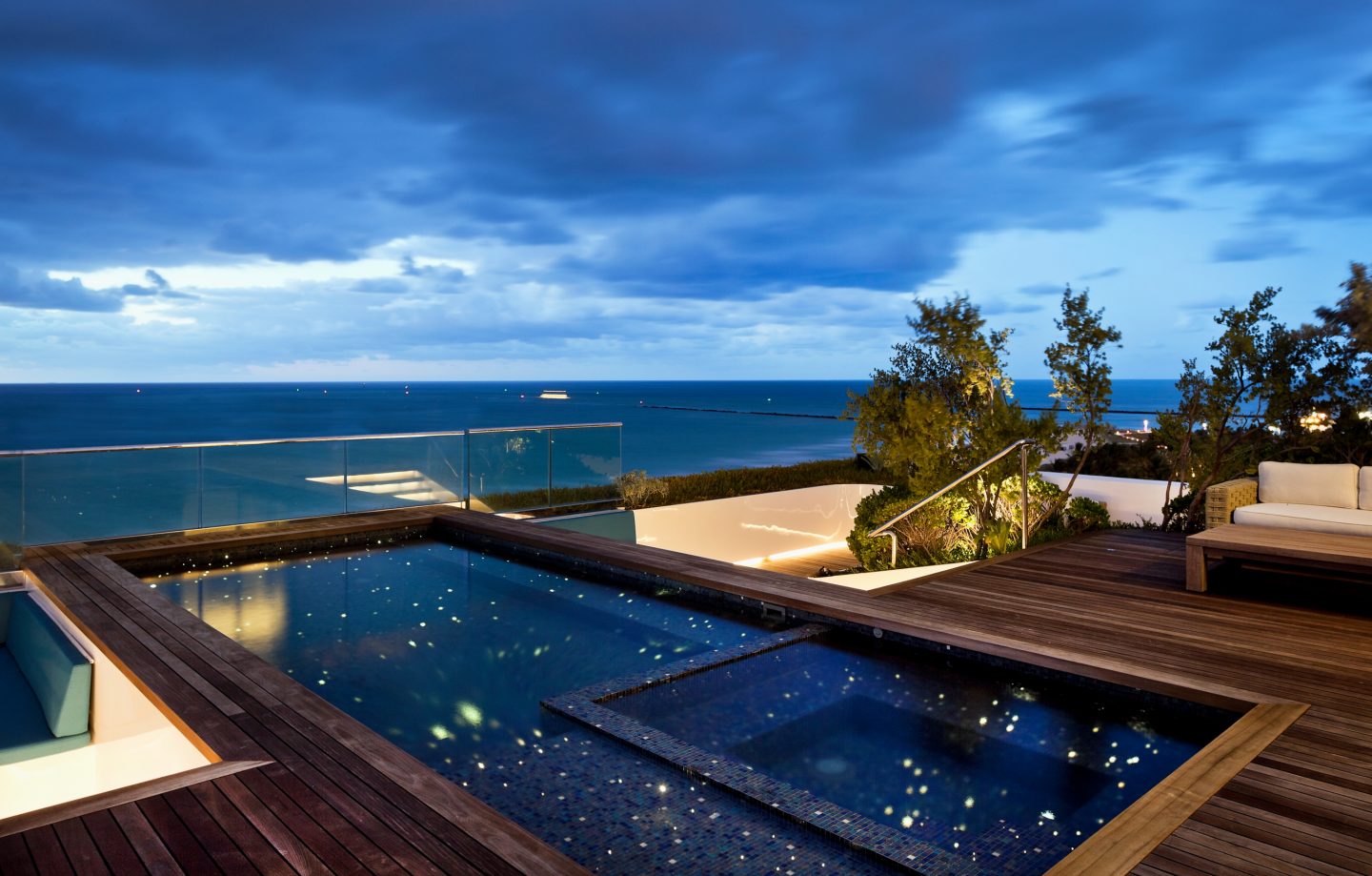 This one-of-a-kind South Beach rooftop garden was named Eloise Pavilion after the Client's loving dog. The 3,000-square-foot, two bedrooms two and a half bath penthouse underwent a rooftop renovation to remove an existing hot tub on a two-level roof deck. Circulation was limited to the lower roof deck which made the entire area underutilized. Raymond […] … Read More
This one-of-a-kind South Beach rooftop garden was named Eloise Pavilion after the Client's loving dog. The 3,000-square-foot, two bedrooms two and a half bath penthouse underwent a rooftop renovation to remove an existing hot tub on a two-level roof deck. Circulation was limited to the lower roof deck which made the entire area underutilized. Raymond solved this dilemma and eliminated some complexity by redirecting the garden entrance to the lower level. One unusable space is now three functional outdoor rooms with the capacity for shared or separate programming.
Raymond designed the swimming pool with an internal hot tub. The entire pool projects to the edge of the building over a cantilevered balcony below. It is the star of the show, with fiber optic filaments sparkling through the tiles in the evenings. Neither lap nor plunge, the pool invites guests to lounge and gaze out at the large container ships awaiting entrance to the Port of Miami.
There was virtually no existing vegetation on the rooftop. It was a sea of red mulch and yellow paint. The Eloise Pavilion is now almost entirely native beach plants that thrive in extremely windy conditions with daily salt spray and direct sunlight. The plant palette visually connects to the dune vegetation on the beachfront below. Railroad vine, which blankets the native dunes, grows upward along the rooftop building's façade to screen existing equipment.
Emphasis was placed on the skyline, keeping all views open to the horizon. Edge plantings grow low and suspend over the planter walls, while silver buttonwood and bay cedar trees strategically mask the overbearing presence of neighboring residential towers.
With informality in mind, Raymond designed a furniture layout plan that left the programming of the rooftop garden undefined. The deck can be prepared for an intimate dining experience or cleared for sunbathing and yoga activities. The overall design was greatly influenced by the Client's love of sailing. Detailing, from the ipe deck and pool coping to the glossy white planters and custom seat walls, was meant to evoke the feeling of lounging on a boat. Coined the "Presidential Suite," by the hotel operator, the Eloise Pavilion is also rented when the Client is away.