Lazenby Garden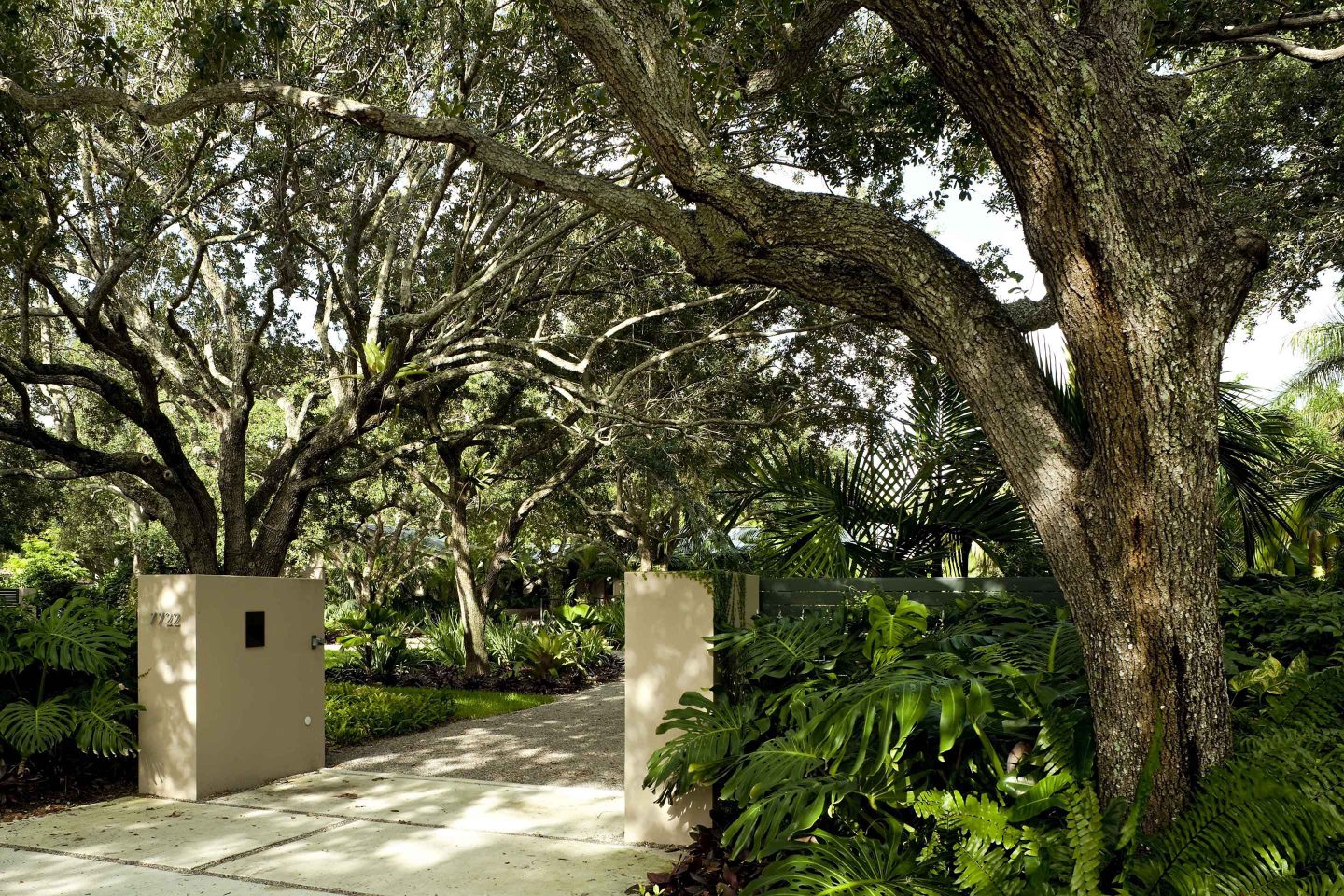 In designing the Lazenby Garden, efforts were made to create a seamless living environment by fusing interior and exterior spaces. Raymond was brought in by the Architect, Mark Hampton, who respected and admired his knowledge of architecture and patience for simplicity … Read More
In designing the Lazenby Garden, efforts were made to create a seamless living environment by fusing interior and exterior spaces. Raymond was brought in by the Architect, Mark Hampton, who respected and admired his knowledge of architecture and patience for simplicity. Upon entering under sculptural live oak trees, shadows take form and fall gracefully upon the garden spaces, pool, and water element.
What was an outdated 1960's South Miami home with no sense of garden is now a contemporary residence with a Zen-like garden feel. Upon entering the residence, shadows from branches of mature live oak trees paint moving light and playful texture on the entry drive. The client wanted to create a new entrance sequence, as the existing suburban-like vehicular circulation crowded the house and suggested vehicular parking in displeasingly close proximity to the front door.
Raymond pushed the driveway further away from the front door in order to create a ceremonial garden entry to the home. This was achieved through a wooden deck around an existing mahogany tree and elevated asymmetric concrete platforms pressed with rock salt, giving depth and texture. Sand screens were used on the driveway to create a more soft and natural appearance. The client desired ample open lawn areas which we were able to achieve while creating a dense verdant background along the periphery of the garden, using native plantings to create privacy and habitat. Existing mature live oak trees were used for shade around the parking areas. Staghorn ferns thrive in the crooks of the mature live oak trees, with color-rich clusters of bromeliads underneath.
The existing swimming pool was in a less than desirable location in relationship to the redesigned house. With that in mind, Raymond designed a new outdoor entertaining area, dining area, swimming pool, and barbecue area to link the garden hardscape with the architectural floor plan. Through a series of site studies, he replaced the existing swimming pool with a bubbling water element to enliven the outside dining area and created privacy on this corner lot from the surrounding two streets. The outdoor areas present many different views into the garden, where a meditative aura reigns.
A play of scale and texture of leaf and plant forms was a predominant design element, with color interspersed as if by an artist. Within the streams of color, hypnotic sounds echo throughout the garden from the bubbling water element. We extended the swimming pool out onto an unused part of the site, thus increasing the owner's enjoyment of the property. The swimming pool not only is inviting for swimming but visually, it becomes the focal point for the most heavily used areas of the residence, the kitchen, and the living room. Much thought was given as to what forms the pool's surface would reflect in the daytime, what natural and artificial light would reflect at night, and how the reflections would fall.
Year of Completion

2009

Location

Coral Gables, FL

Architecture

Mark Hampton

Photography

Steven Brooke Photography