Miami Beach Modern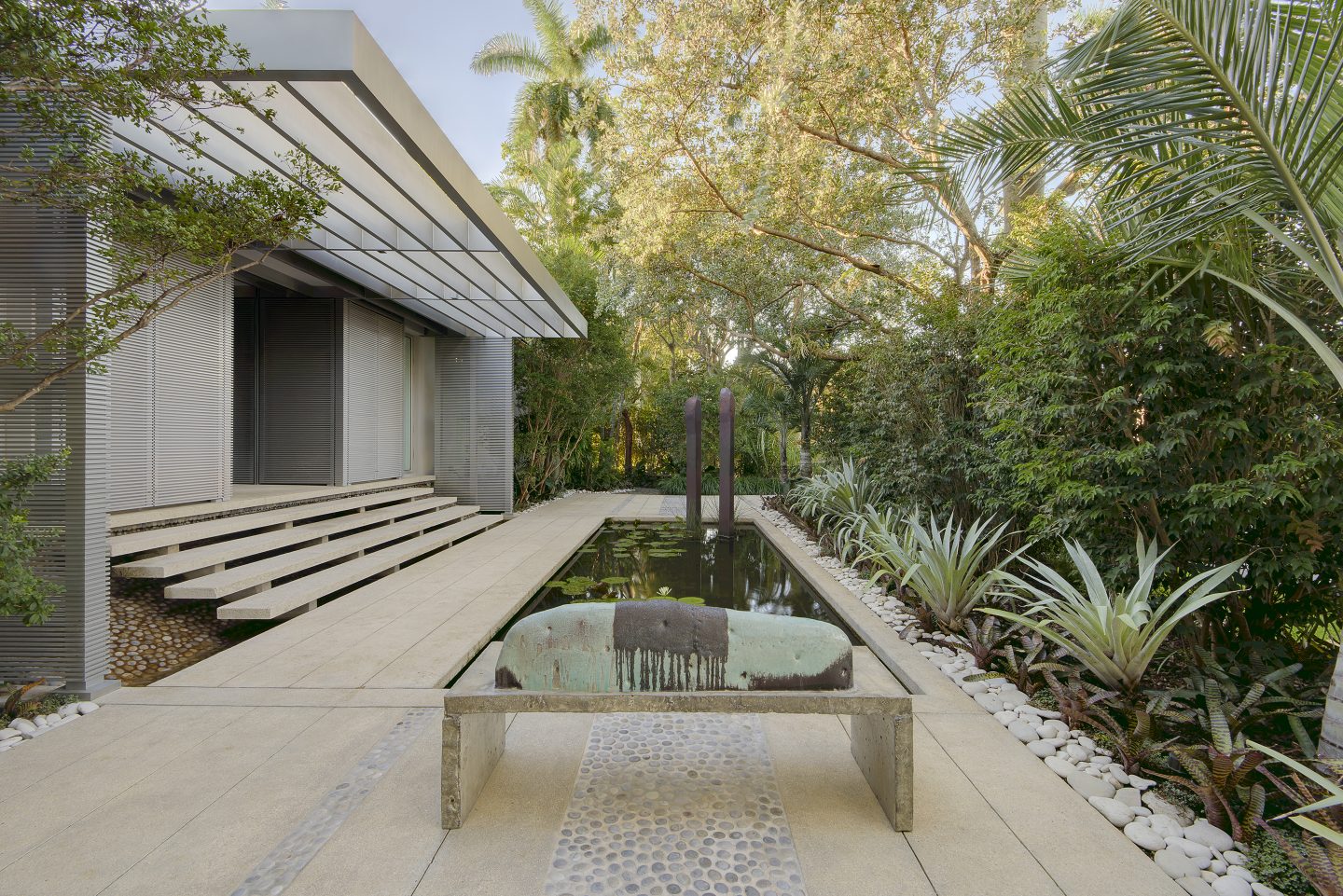 The clients wanted a treehouse. They had excellent taste, and the house had good bones. Scope creep provided an opportunity for Raymond to seamlessly meld and extend the architecture and interior into the outdoors, thus encouraging moments of movement and quiet contemplation. Our clients, a young family with a young son and a dachshund named […] … Read More
The clients wanted a treehouse. They had excellent taste, and the house had good bones. Scope creep provided an opportunity for Raymond to seamlessly meld and extend the architecture and interior into the outdoors, thus encouraging moments of movement and quiet contemplation.
Our clients, a young family with a young son and a dachshund named Bonzai, were very happy in their house and had created an exceptional living environment where natural materials abounded and Brazilian furniture created comfortable sitting areas. Yet, there was sparse integration with the exterior. They expressed the desire to feel as if they lived in a treehouse and commissioned Raymond to determine the architectural and interior renovations.
This 14,240 square foot corner lot is located on an island dredged from the surrounding Biscayne Bay by Carl Fisher, one of Miami's pioneer developers, in 1924. The island's original 1936 landscape plan required one Royal palm at suitable intervals on each block. Due to these regulations, Raymond planted indigenous privacy plantings using species that would enlarge their canopies after the passage of a little time, including Gumbo Limbo, Jamaican Caper, Marlberry, Silver Saw Palmetto, Golden Creeper, and Coontie. Intriguing paths wander along and through these periphery garden areas.
A stunning architectural intervention was introduced in the entry garden, between the two auto courts. The entry pergola, pivot door, floating concrete steps and aquatic sculpture garden create comfort and stimulation as one enters and departs. As the pivot door opens, the interior and exterior elements fuse, and long views in both directions are revealed. The same materials are continued on the ground plane, walls and ceiling, further linking the indoor and outdoor spaces.
The home's interior spaces are connected with the exterior spaces by maximizing glazing to allow views and light. The glazing is frosted at exterior equipment areas where no view is desired. Corner windows were introduced to magnify the connection. A favorite louvered garden room was expounded upon and opens up to the surrounding private garden. A new kitchen was created to function as the center of the home's social spaces. An outdoor dining area with a built-in table and cooktop was created adjacent to this space to encourage outdoor dining and a union with nature.
The existing rear garden was mostly swimming pool, walled off equipment area and pavement. Raymond created a feeling of much more space while providing more exterior spaces for outside living and increased the circulation both inside and out. The large windows unify the architectural façade and afford views through the branches of the courtyard trees, creating the feeling of a treehouse.
Raymond designed a new cabana bath and a massage pavilion. It was placed where the existing equipment area existed, which once obstructed the rear garden space and circulation. The equipment was placed on top and concealed behind a parapet wall and flowering vines.
The existing swimming pool dominated the entire garden; a stagnant space with nondescript detail. The swimming pool was reduced in scale, resulting in multiple user experiences where before, swimming was the only activity. A wet deck creates an alternative patio, from which one experiences the longest view across the garden and off into the sky, with historic Royal palms towering in the background.
As the lead on the design team, Raymond was able to exemplify the possibilities of interior and exterior integration and harmony. He designed all of the exterior architectural elements, including a selection of windows and doors, working with his staff designers, and the in-house architect of the general contractor. An architectural consultant and interior designer were brought on at a later date to refine and resolve unresolved details.
A fantastic general contractor and quality subcontractors constructed impeccably detailed elements and surfaces. The water garden consultant, landscape contractor, lighting contractor and clients all embraced the special qualities that were sought and achieved.
2012 Award of Honor, Florida Chapter American Society of Landscape Architects
Year of Completion

2012

Location

Miami Beach, FL

Photography

Steven Brooke, Marion Brenner and Stephen Dunn

Architectural Consultant

Mark Hampton

Interior Design

Bruce Bierman Design Inc.

Landscape Contractor and Tree Broker

Plant Creations, Inc. and Sean Jacobus

General Contractor

Woolems, Inc.

Water Feature Consultant

Edgewater Exhibits

Lighting Consultant

PCL Landscape Lighting Inc.

Custom Metal Work Consultants

Arts Work Unlimited, Inc. and Royal Iron Creations

Pool Consultant

Hackl Pool Construction Company, Inc.

Irrigation Consultant

Automatic Irrigation LLC.