Pine Tree North Garden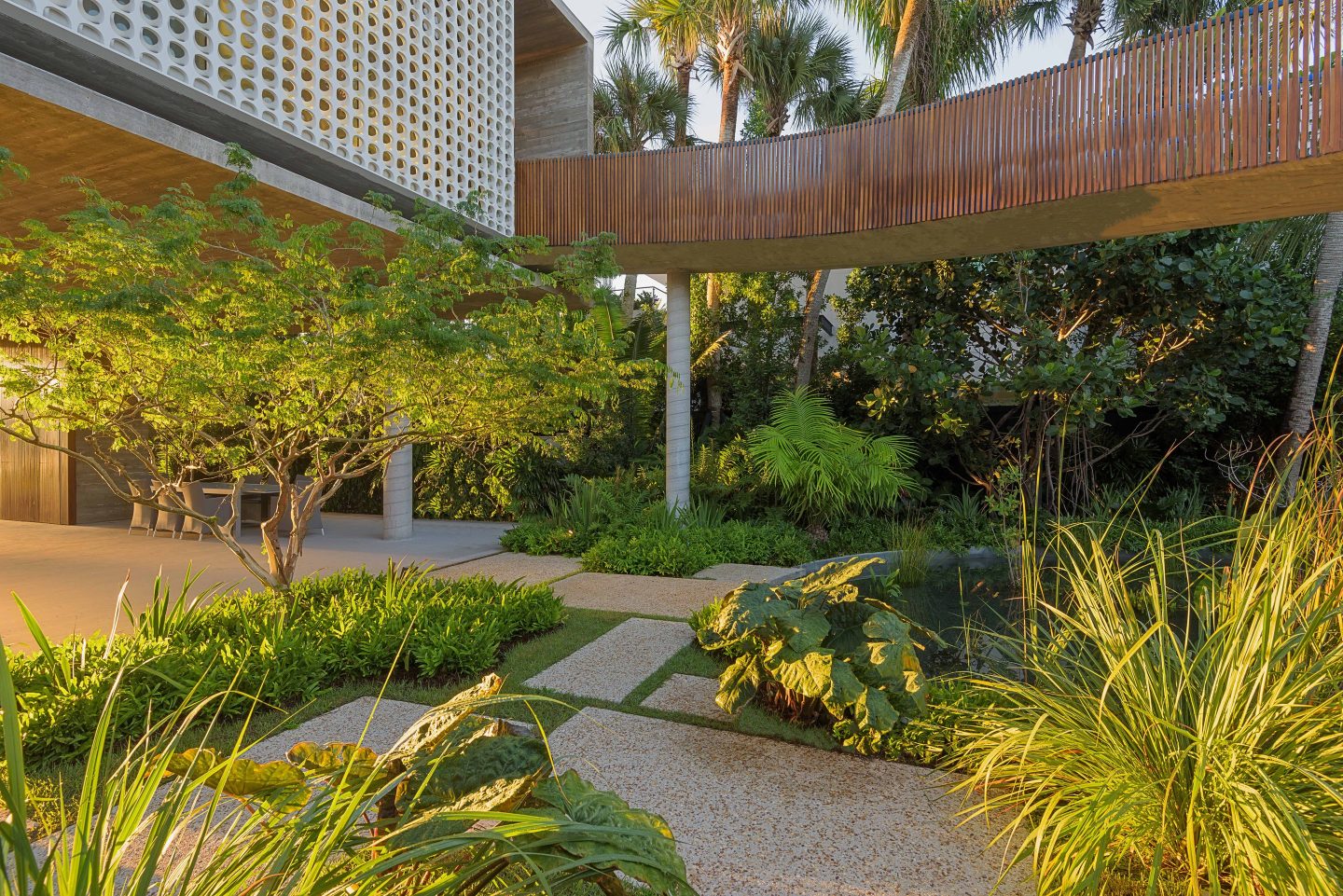 This recently completed 1 acre single-family residential home welcomes a landscape design demonstrating how garden elements can meld the built environment seamlessly with the natural … Read More
This 1-acre single-family residential home welcomes a landscape design that demonstrates how garden elements can meld the built environment seamlessly with the natural. The family compound has a continuous design language, from the site-specific use of materials to the indigenous plantings and specimen trees. In addition to a traditional swimming pool, the garden envelopes a bio-filtered natural swimming pool that includes Red Mangrove and native wetland plants.
The architecture incorporates raw materials such as exposed concrete, stone, and wood to complement the natural site. A curvilinear walkway creates a bridge over the natural pool, offering a unique perspective to the garden below, and access to the second floor main living area. From this vantage point, there are expanded views of the vegetated green roof of the main level, and views overlooking Indian Creek and the Miami Beach skyline. The planting design is natural and lush, and plant species were composed to create a wild feel and to create privacy from the neighboring properties. Large-scale Sabal Palms were used to reduce the scale of the neighboring structures.
The project incorporates a green roof above the bedroom wing. A lightweight soil mixture was specified, and plant selections were made appropriately for the minimal soil depth that was available. A high-efficiency drip irrigation system was used for the green roof planting. Some of the benefits derived from the green roof are in the reduction of stormwater runoff, energy use, and the heat island effect.
The concrete driveway incorporates a finish of exposed shells that were sourced regionally in Florida. Joints were notched out of the driveway and were planted with sod to create permeable areas and to meld the hardscape and softscape together. Many Florida native species were used in the planting design. The use of native plants is an important priority of the landscape architect as natives allow for the creation of wildlife habitats, and require little to no supplemental irrigation after establishment.
The property had unique challenges: the lot is long and narrow and lies between two existing narrow sites that maximized their building footprints. Underground drainage and a rapid construction schedule also posed a test for landscape implementation. Sequencing had to work from the inside of the property out, and the tight planting spaces created limitations for equipment.
Year of Completion

2016

Location

Miami Beach, Florida

Architecture

Studio MK27

General Contractor

Brodson Construction, Inc.

Photography

Stephen Dunn Photography, Fran Parente Photography

Landscape Contractor

Dias Brothers Landscapes

Water Feature Consultant

Aquatic Consultants, Inc., Watershape Consulting