Seven Acre Garden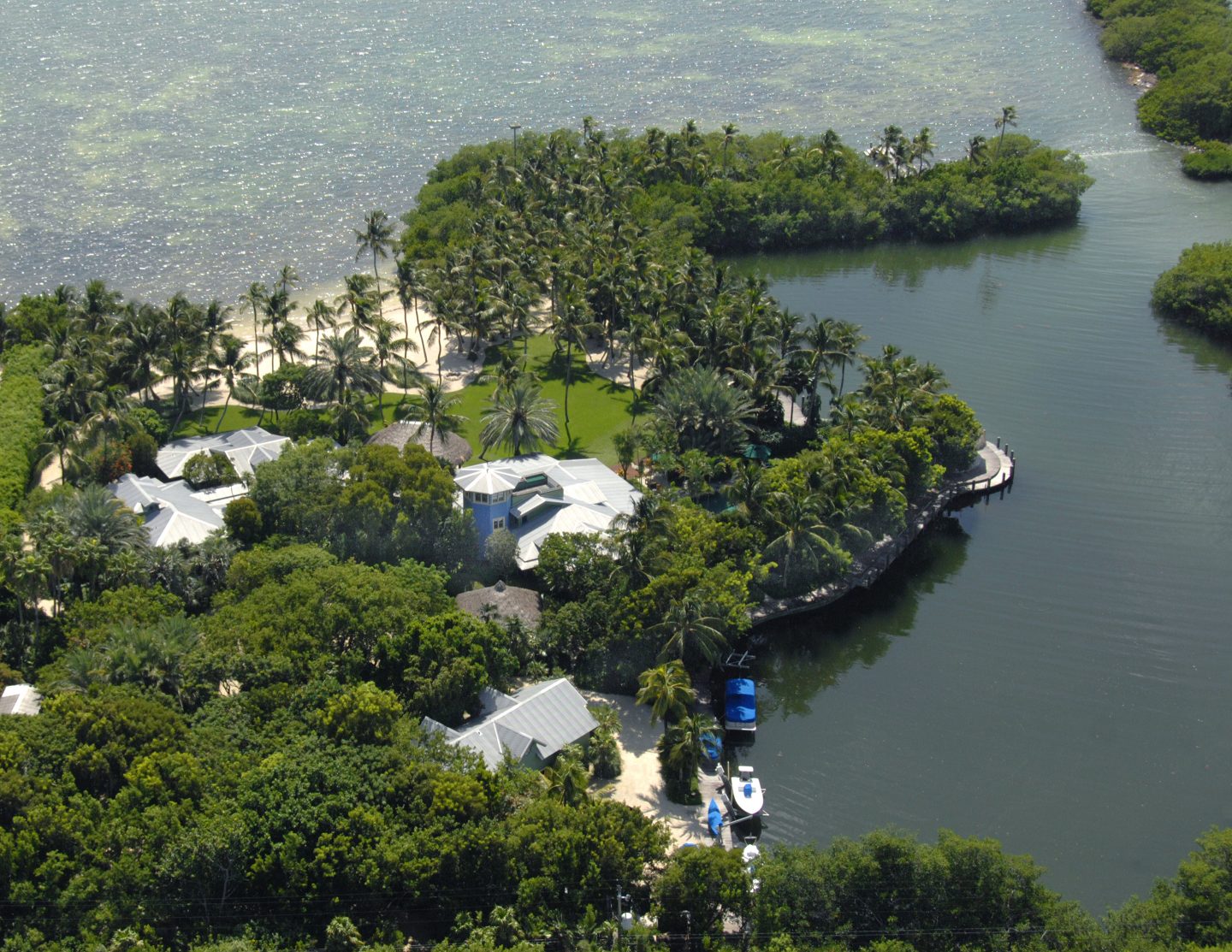 The Florida Keys are a chain of small islands terminating at Key West, less than 90 miles from Cuba. Many of South Florida's urban dwellers escape here for weekends or holidays. They are drawn by the brilliant waters, remnants of unspoiled woodlands, and the laid back lifestyle. Tourists from around the world also come because […] … Read More
The Florida Keys are a chain of small islands terminating at Key West, less than 90 miles from Cuba. Many of South Florida's urban dwellers escape here for weekends or holidays. They are drawn by the brilliant waters, remnants of unspoiled woodlands, and the laid back lifestyle. Tourists from around the world also come because of the warm weather. The family purchased this seven-acre property for all these reasons plus their love of fishing on the backwater flats.
On our initial site visit with Steve Siskind of Siskind Carlson Architects in Miami, we found a site mostly barren. A grove of coconut palms had been planted near a colorful two-story bungalow. This building was serving as a temporary fish camp. A few mature green buttonwood trees and a tall ficus hedge provided the only green on the bulk of the property. A generous boat basin had been excavated providing hundreds of feet of potential dock protected from storms by a breakwater constructed from the basin's excavation. Red mangroves had colonized the periphery of this breakwater/peninsula.
In the Florida Keys, the success of plants depends on their elevation above sea level, tolerance of salt and wind, and their ability to go long periods of time without rain. Few species survive at less than four feet above sea level. For this reason, we had to elevate vast portions of the site. Indigenous plants grow here in thick masses called hammocks. Nestled together for protection from storm generated winds, their roots intertwine for support. Often no more than six inches of organic soil covers the limestone bedrock of fossilized coral reef they grow on. Our desire was to create a garden that would appear to be a natural hammock, accented in areas with sub-tropical plants that could thrive with little care.
After the grades were established and contoured to utilize all rainwater, the hammocks were planted. The garden was started several years before the main house and garage/guest cottage were constructed. This gave us time to locate mature canopy trees and palms. Siskind's architecture was designed in contemporary Florida vernacular style. Sensitively sited, and painted in colorful dark tones, the residence fades into the landscape. Working with Steve, we raised the grade to the entry-level in gentle terraces. We used weathered reject keystone monoliths from the excavation of septic tanks for the walkways and retaining walls.
Our good fortune was that the construction of Sugarloaf High School had produced an abundance of mature indigenous trees. These were rescued and planted around the house. Oceanside, a thatched roof open-sided structure opens on to a play lawn. Beyond, dune plantings protect a generous beach complete with a fire circle for nighttime storytelling. Everything is casual, the driveway and all the paths are of the same material as the beach. This finely crushed limestone is freshly raked to remove all traces of human habitation prior to the family's arrival.
The wife's passion is the cultivation of orchids. Propagated in Siskind's orchid house, they are attached to the trunks of trees after being used to enliven the interiors. The garden's ambiance is hypnotic, a slice of paradise on earth. So much so that it is routinely used as a location for fashion photography, commercials, and films. But, never while the family is in residence.
Year of Completion

1996

Location

Islamorada, FL

Architecture

Siskind Carlson & Partners

Landscape Contractor

Gerry Droney Landscaping

Photography

Andre Van Rensburg and Thierry Dehove