The Pavilion Beach Club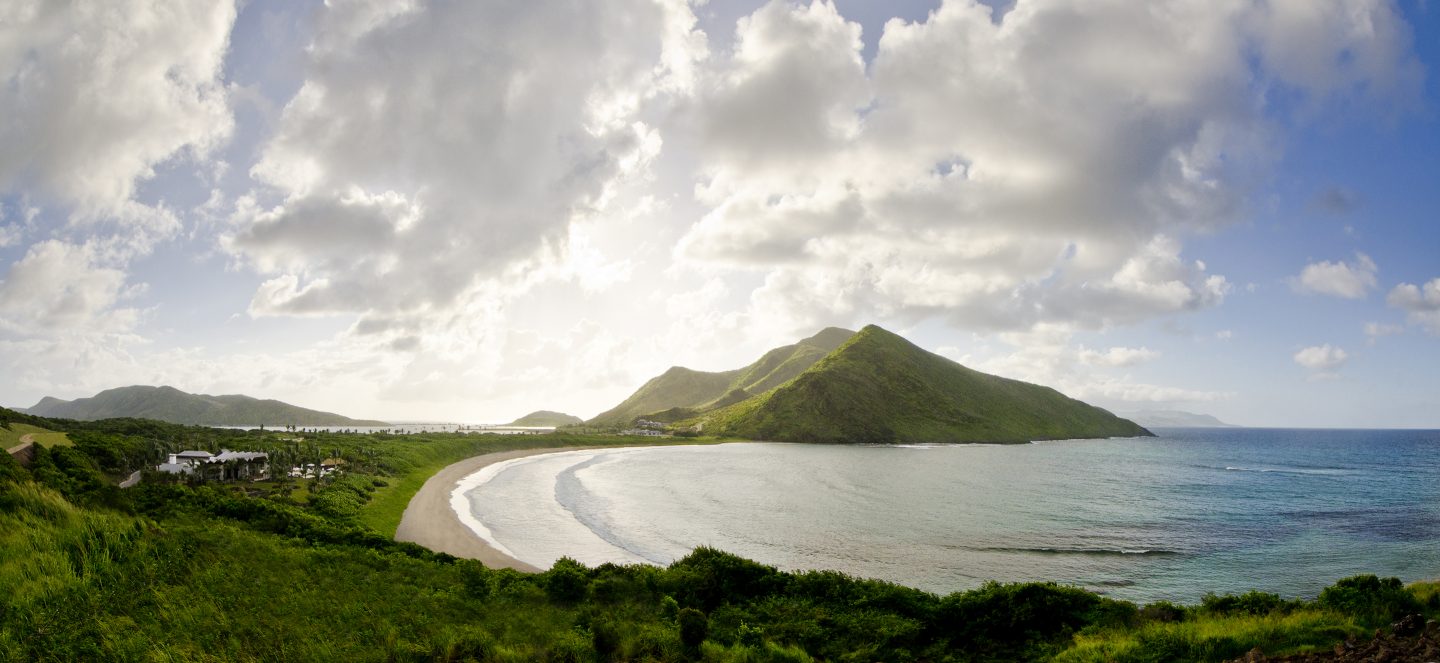 The Pavilion Beach Club is a 3-acre beach club for Christophe Harbour, a 2,500-acre luxury resort development located on the southeast peninsula of St. Kitts, an island with terrain often compared to that of the South Pacific. The design was driven by the ambition to create a sheltered place of leisure and relaxation that celebrated […] … Read More
The Pavilion Beach Club is a 3-acre beach club for Christophe Harbour, a 2,500-acre luxury resort development located on the southeast peninsula of St. Kitts, an island with terrain often compared to that of the South Pacific.
The design was driven by the ambition to create a sheltered place of leisure and relaxation that celebrated the borrowed views of a verdant topography and crescent beach. The development company's Director of Design and Planning selected Raymond after featuring an image of a beachfront residential pool he designed in the Bahamas as the initial inspiration for the project. Raymond was engaged early in the design process and convinced the Architect to not only raise the open-air dining room's elevation to 20.5 feet to maximize views but to also push the additional structures back to circumvent potential distractions to the horizon line.
The Pavilion's pool sits at elevation 18 feet, while the dune vegetation expands below the vanishing edge at elevation 10 feet. Raymond raised the infinity edge to 7 feet to shield the sight of beachgoers walking beneath. The pool planter and edge conditions are obscured by specimen boulders and cascading, resilient groundcovers.
Materiality marries the interior and exterior through the use of flagstone. It appears as a veneer on the architectural structures and as a paving material for the garden pathways and pool deck. The 3-inch-thick flagstone transitions from mortar joints to grass joints throughout the site. From the Palapa beach bar, members follow pathways carved through existing Seagrape vegetation to intimate pocket beaches for private sunbathing.
The Pavilion is located in the remnant dry forest zone with a relatively dry climate, high evaporation rates, and average annual precipitation of 34 inches. The existing site was once heavily forested and subsequently was a burned-over area with beach strand vegetation occurring intermittently at the shoreline. With this in mind, Raymond selected plant material that could withstand this unique beachfront environment. With a concern for Lethal Yellowing of Coconut Palms, he selected disease-resistant cultivars and mixed species of palms. The majority of plant material was sourced and shipped by barge from Homestead, Florida, in 40 foot flat racks and refrigerated containers.
A series of shallow retention basins were created for erosion control and Paspalum grass seeding was used to stabilize landforms. The soil from on-site was sifted to obtain larger material for stone walls while non-sifted soil was used for fill. Raymond engaged local contractors to set locally sourced boulders and to layout and install plant material. Raymond communicated with the on-site team through redlined photographs with comments on weekly site progress.
Year of Completion

2011

Location

St. Kitts, West Indies

Client

Charlie Arrington of Christophe Harbour/Spencer Nash of Kiawah Partners

General Contractor

dck Worldwide

Architect of Record

John Denton Haley of Christophe Harbour

Interior Designer

Allison Elebash Interiors

Pool Consultant

Poolworks BVI Ltd.

Consulting Landscape Contractor

Dreamscapes Caribbean Ltd.

Lighting Consultant

PCL Landscape Lighting Inc.

Irrigation Consultant

Blue Island Irrigation

Photography

Stephen Dunn Photography/Patrick O'Brien Photography